This article will show you how to navigate Google's search results in particular situations. Block website from Google searches: (Control Google)
Do you want a list of domains to be hidden from search results?
Yes, there's also the option of having them labeled.
Alternatively, you can hide personal information from search results.
Check to see if any of the following scenarios apply to you.
Forever block website from Google searches
If there's a website that irritates you to the point where you don't want to see it in Google search results again, there's a free Chrome extension that can help.
It's known as a Personal Blocklist (not by Google). It will add a simple link to your search results called "Block (domain)." You can also import the entire contents of your personal blocklist.
After that, the extension will delete certain websites from your Google search results, so you won't have to view them again.
Believe it or not, this was even a built-in feature within Google's search results in 2011 that anyone could use.
One-Time block website from Google searches
The site: argument can be used to exclude a specific domain from a given search. Let's imagine you're looking for [technical SEO] on Google, but you don't want to see any results from neilpatel.com.
This is how your search look:
technical seo -site:neilpatel.com
"Site:" specifies a search within a certain domain. The – symbol indicates that you want that site to be removed from search results.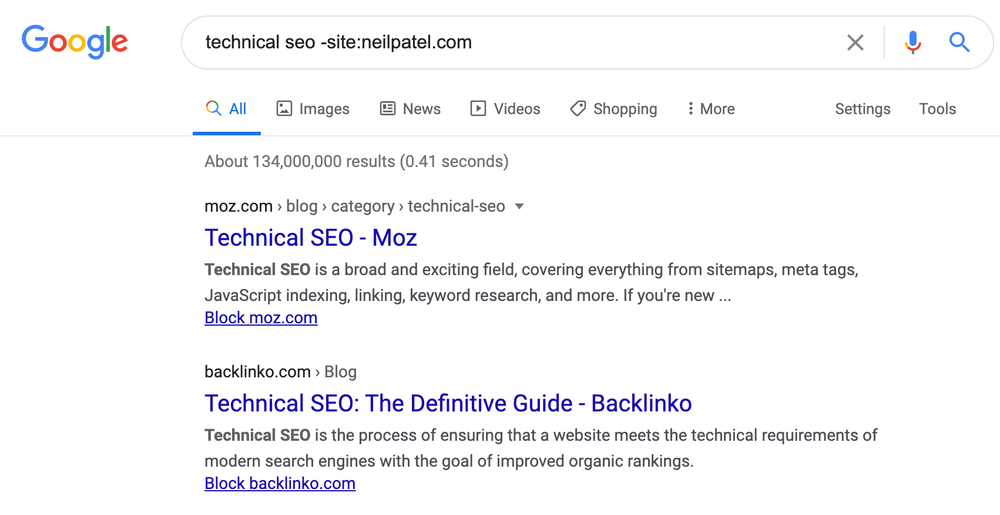 Don't get rid of it; just put a label on it!
Paywalled content is one type of search result that most people dislike.
Who wants to see a search result, click on it, and then discover that you have to pay to view it?
Users are rarely interested in subscribing for the sole purpose of reading a single article, resulting in a bad user experience.
This free Chrome browser extension adds a label to all sites with paywalled content in Google search results, as well as on Facebook and Twitter.
You can adjust the list of labeled domains by removing or adding sites to the list that you are subscribed to.
You may even repurpose the addon and identify any sites you like because the list is totally customizable (for example sites that spread fake news, etc.)
Completely disable access to a website and increase productivity
For a specified period of time, some apps and extensions prohibit you from viewing certain websites.
Of course, for increased production.
You can use the Block Site extension for Chrome or one of the difficult-to-bypass programs, such as Cold Turkey, which is one of the most popular.
These programs, on the other hand, do not prevent you from accessing websites that show in search results.
Own site: How can I block something from Google's search results?
Is there any information in Google's search results that you don't want to be made public?
Do you have control over the website?
If you know how to edit HTML, place the following meta tag in the head> section of the page you want to remove from Google:
<meta name="robots" content="noindex">
More information on preventing search engines from indexing your material can be found here.
Please note that this will just delete the material from Google's search results and that the tag will take some time to take effect.
It's safer to simply delete the page or at the very least secure it with a password.
It can be difficult to set up password security. Even so, many web hosting companies include this option, which can be accessed through the hosting control panel.
Google recently published a video on removing/blocking pages from Google search. Check it out below: