I'm not sure about you, but I'm obsessed with getting cheap website traffic that converts well.
I mean, I do run ad campaigns with considerably higher CPCs than the one in the top of this article (on platforms like Outbrain, Twitter, and Pinterest), and they're all great and has giving me a good return on investment, so I put them in this list as well.
But every now and then, I like to develop a campaign and push it with $0.001-$0.05 clicks to see if I can make an offer convert with that type of bought website traffic.
When I see that I can make money even if I don't have to pay a fortune for clicks or spend time doing SEO, I get a strange sense of happiness.
My biggest concern when I first started many years ago was finding good quality and economical website traffic, and I failed miserably several times.
I might have produced and designed a fantastic landing page, had an amazing logo, and great copywriting, but it was all for nothing because my websites received no good quality traffic.
I tested a number of scam services that claimed to be able to deliver me legitimate traffic (and never did). So I got burned… a lot, and then I learnt how to optimize SEO and develop legitimate internet businesses, or at the very least, how to pay for traffic smartly.
But, before we go any further, you should consider getting your website ready to send traffic, as this will make it much easier to run traffic campaigns with some of these low-cost website traffic providers.
Because some of them may not actually understand you linking directly to an offer, it's preferable to have your own website or landing page to which you may route traffic before redirecting them to your offers.
Additionally, this improves conversions, lowering your cost of traffic even further. How To Create A Website is a 15-minute lesson that will show you how to do it.
---
Cheap Website Traffic: Why Is It Important?
---
If you don't have a lot of money
You're obviously interested in growing traffic to your website or affiliate marketing if you're reading this article. You can do it in a variety of ways, both free and paid.
But what if you don't know how to conduct SEO or don't have the time to wait for it to work?
So your other alternative is to pay for website traffic, and while there are a lot of ad networks and websites out there offering to bring you high-quality traffic for a low fee, only a handful of them genuinely deliver on their promises.
If you don't have time to wait for SEO
If waiting for SEO isn't your thing, and all other free traffic sources (such as social media, forum posting, YouTube marketing, and so on) have failed you, you should consider paying for website traffic.
Yes, if you perform proper SEO, it will not always convert as well as a visitor who comes directly from Google, but it can still work, and you will be able to at least test your website or offer before starting to do significant SEO.
Almost all of the low-cost website traffic sources I list below will begin giving you traffic within 24 hours of submitting your campaign (you will have to wait for your advertisements to be reviewed, which is why it will take a little longer).
Isn't all cheap website traffic bad for your business?
Both yes and no…
I've tried and tested a lot of paid advertising networks over the years, and the majority of them were a waste of money, but there were a few cheap website traffic sources that I found to have strong traffic and a low CPC (cost per click) that worked for me and helped me generate sales and leads.
So I assumed you guys might be interesting in learning about some of my low-cost website traffic sources, so if you're seeking to advertise affiliate deals or your own websites on a budget, you should check out the following sources.
However, first…
Bot traffic should always be avoided.
Here are some suggestions for avoiding paying for bad traffic:
In general, avoid websites that promise to deliver you 100,000 visitors for ten dollars.
Don't buy traffic from Fiverr gigs; they're almost always bogus bot traffic.
Paying for an email blasting service is a waste of money. (You spend $100 every month to send out hundreds of spam emails.)
Always read evaluations regarding the company or service from which you intend to purchase traffic.
PTC and traffic exchange websites should be avoided.
If you want to reduce your risks of buying substandard or false traffic, you should follow these guidelines.
Even legitimate traffic sources have bad traffic (which you'll learn about in a moment), but the idea is to track everything and block the bad websites/ids/keywords that don't convert.
So, let's take a look at some of my favorite sites to receive high-quality, low-cost website traffic; these sources are still popular in 2021 and 2022.
---
Cheap Website Traffic Sources: 5 Recommended Sources
---
1. Microsoft Advertising (Bing Ads)
If you spend $25 on MicrosoftAdvertising, you'll get a $100 advertising bonus. To take advantage of this offer, Please use my link to sign up.
Bing Ads has since been renamed Microsoft Advertising.
I'm not sure why it happened, but given that Microsoft controls Bing and a slew of other services and websites, I assume they renamed Bing Ads to Microsoft Advertising to give advertisers more options.
Bing, like Google and Google Ads, has its own advertising infrastructure for its search engine listings, which is referred to as Microsoft Advertising. You can sign up for an account right now.
They don't have the same volume as Google, so they won't be able to send you thousands of clicks every day for every industry, but they can still send you some nice figures, especially if you choose to run your ads on their search partners like Yahoo and AOL as well.
The Windows operating system is still the most popular in the world, and it comes preinstalled with its own browser, Internet Explorer (or the most recent version, Edge).
They also have their own MSN and Bing Search pre-configured as the default search engine and homepage. So, if you're worried that no one uses Bing search, reconsider.
The average cost per click (CPC) might range from $0.05 to $1, depending on the various categories.
However, you could strike it rich and pay $0.01-$0.03 every click if you're lucky. It's a little more difficult these days, but it's still possible.
So, if you want to generate clicks for as little as $0.01, you should do the following:
Other countries should be targeted instead of just the United States (think about Germany, New Zealand, Singapore, UK, France, Spain, etc..)
Make a fantastic landing page with a high quality score. Aim for a quality score of at least 8/10. This aids in the reduction of your CPC.
Go to SemRush and look at what keywords and advertising your competitors are using, then replicate them all.
Run split tests on multiple ads and experiment with alternative ad titles and text descriptions.
You may also use Ubersuggest and Ahrefs, both created by Neil Patel, to find extra keywords to include in your campaign.
Keep in mind that this isn't an exact science, and your results may vary, but in general, if you follow some of these techniques, you should be able to cut your CPC enough, perhaps not to $0.01 per click, but at least to $0.03 – $0.06.
BingAds is ranked first because it is a high-quality ad network with very little poor traffic (if any at all) and reasonable CPC pricing.
My weirdest Bing Ads record was one sale from only two clicks (I paid $0.10 for two clicks and ended up selling a product for $40, pretty bad, but I did my set up right and was targeting France instead of the US, where there isn't much competition).
Disclaimer: Sure, it was an absurd thing to happen, and I can't guarantee that you'll get the same results, but it did happen, and I'm trying to make the point that Bing Ads are a fantastic cheap website traffic source, even if you don't get the same results as me.
Of course, I got lucky with one sale from two sponsored clicks, but that only goes to show that Bing Ads may be on par with Google Ads at times, and that their bought website traffic converts very well as well.
Additional information on Bing Ads:
Minimum Deposit: There is no minimum deposit for Bing Ads; however, you can prepay your account with $50, for example, and pay after 30 days.
CPC Minimum: $0.01
2. RevContent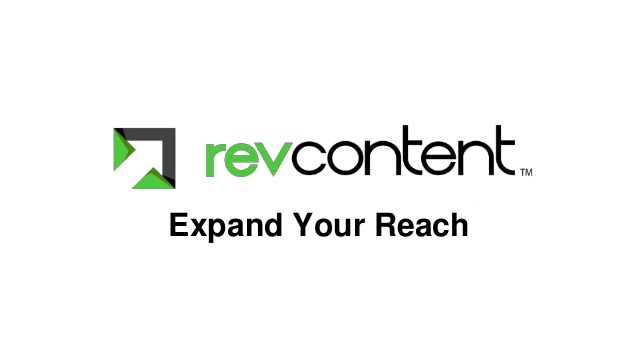 RevContent is a native advertising network that allows you to display your adverts on some of the world's most popular websites, including Forbes.com, PCWorld, Newsweek, Metro, Inquisitr, Heavy.com, and others.
On RevContent, you can purchase website traffic for as little as $0.01 per click or as much as $0.10 – $0.30 per hit. It all relies on your target audience, including GEO, locations, category, device, and so on.
Here are some volume and cost samples for previous RevContent campaigns I've run in the past:

As you can see, I ran a test campaign for $0.05 per click on desktop traffic in the United States (the most expensive combination).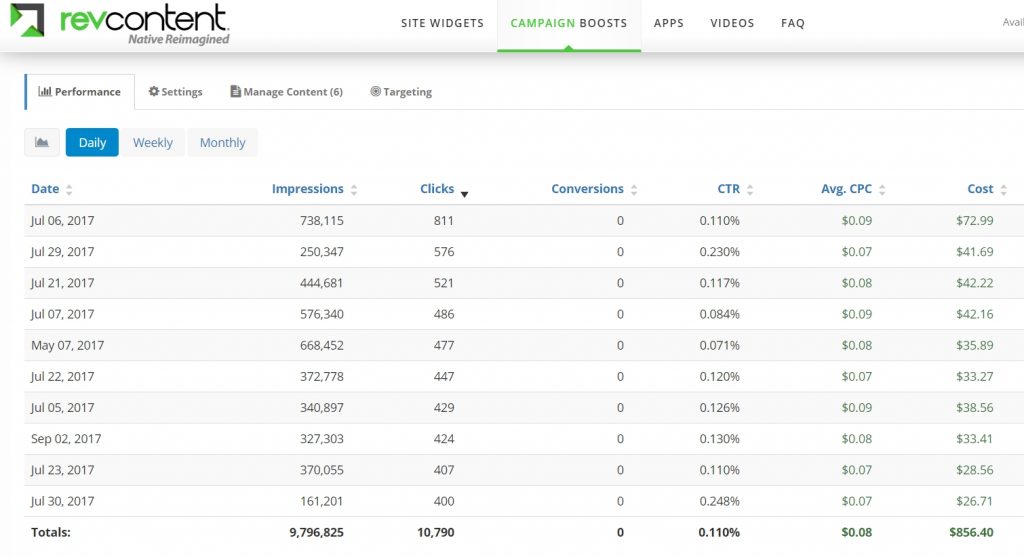 Another campaign I ran for a longer length of time had a slightly higher average CPC of $0.08, but it was still worthwhile for me because I had a good return on investment and wanted to bid a little more to get additional visitors.
This was likewise only for the traffic desktop in the United States.

Revcontent offers a lot of cheap internet traffic at a reasonable price. In a European country, I tested a mobile campaign and was able to achieve a CPC of $0.02. Many publishers use software to track how many people click on their advertising. This is bad and, if you're not careful, can eat up a significant portion of your cash.
Extra information about Revcontent:
$100 is the minimum deposit.
CPC Minimum Recommendation: $0.03 (depending on the device and country targeted)
3. Google Ads
Yes, Google Ads is included in this list of low-cost website traffic sources. While they do have CPCs of $1+ for popular keywords and industries, there are alternative ways to gain traffic from Google Ads at a much lower cost.
For example, on the huge Google Display Network, you may run banner and native advertising for as little as $0.01 per click.

Every dollar spent on Google Ads results in a $8 profit for the company. Just a rough estimate of clicks on the Google Ads Display Network with a minimum CPC of $0.01.
Sure, you might not get that much because it's only an estimate, but who knows?
Google Ads has higher volume and inventory than Microsoft's Bing Ads, as well as the ability to grow them more efficiently.
In 2021, AdSense will be used by over 39,000,000 websites, which is a remarkable quantity, and I'm sure their publisher base will continue to increase.
Google continues to dominate the search engine business, as well as the display ad market through their AdSense program.
Here are a number of techniques to generate cheap website traffic using Google Ads (with minimum bids of $0.01-$0.05, CPC can be very low).
Try YouTube Ads (with minimum bids of $0.01-$0.05 on YouTube, CPC can be quite low).
Experiment with banner and native advertisements.
Begin with a modest budget.
Advertise in nations outside than the United States (and usually obtain a lower CPC)
Try search engine advertisements as well, but be careful not to bid too much or too low.
To increase your CTR, optimize and run A/B tests on all of your ads.
Have a top-notch landing page (and get a high landing page score, this will help you get a lower CPC)
Monitor your campaigns on a regular basis to check how they're doing.
Use negative terms and don't go too wide.
Placements should be chosen manually.
Some affiliate marketers would argue that they don't utilize Google Ads since the company doesn't allow affiliate marketing on its platform.
Let me assure you, that is not the case… at all.
What Google dislikes is when you promote shady deals and items, link directly to the affiliate website, provide no value to the user, or use your website as a "bridge" between you, the user, and the affiliate offer.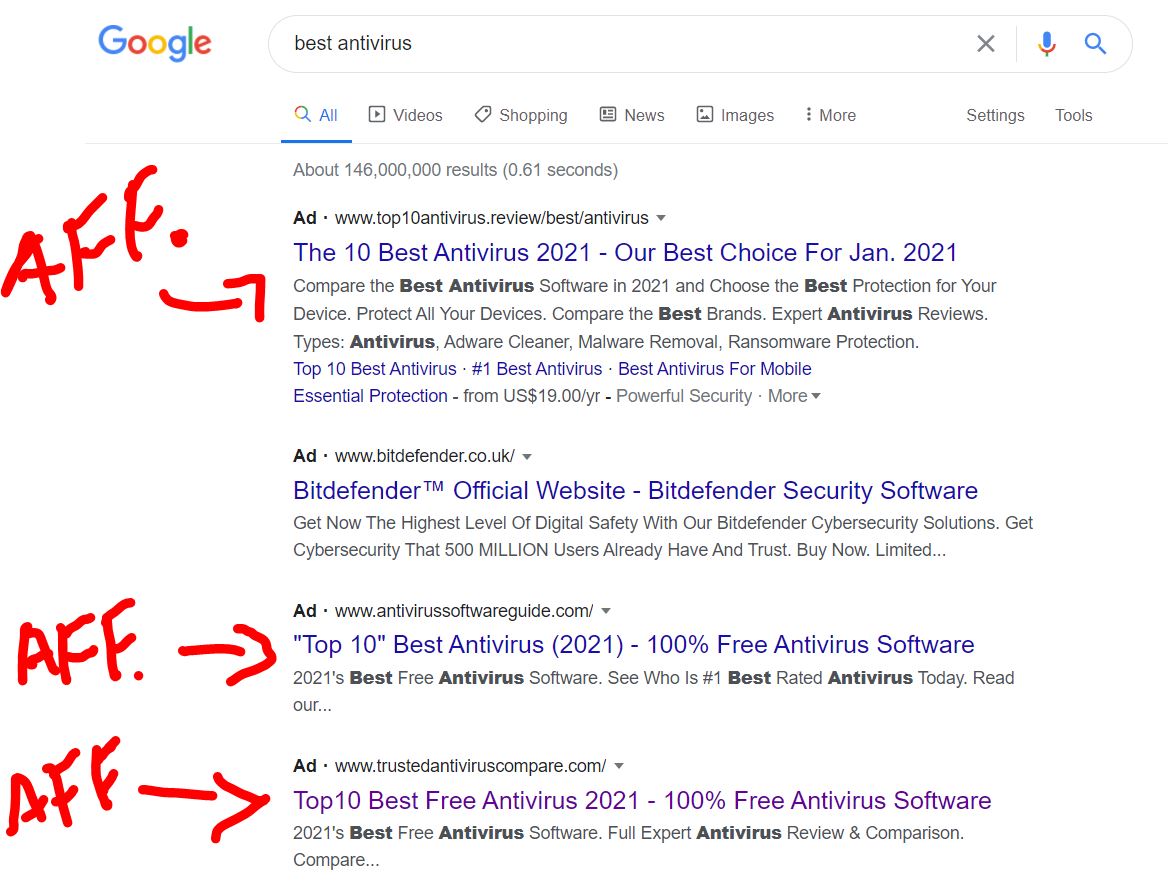 To begin started, there is no need to deposit anything; you will pay at the end of the month (by then maybe you have already made some sales to cover your budget).
The minimal CPC for Google Ads is $0.01, but you'll have to get inventive to obtain clicks for that price (see my tips from above).
Depending on the country you select on your profile, you can have manual payments, automatic payments, and monthly invoicing.
4. Reddit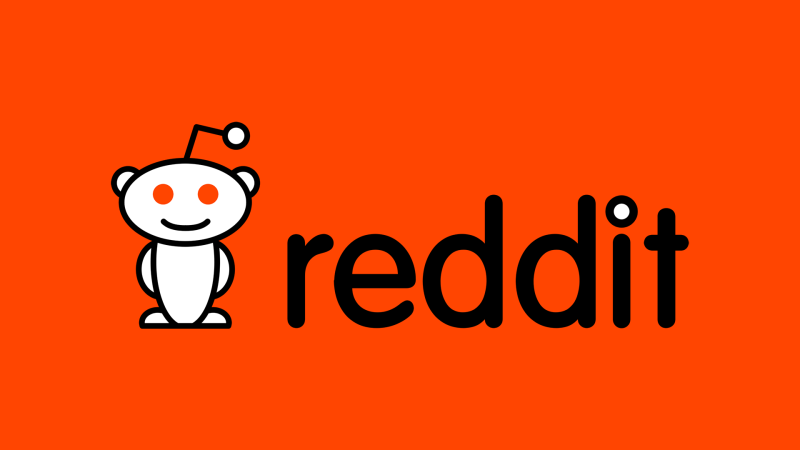 Reddit is a large social network website (now the world's 25th most visited website and 6th social network). However, before you get too excited about Reddit, you should realize that it is one of the most "Brutal" social networks in existence.
You should always be cautious when attempting to promote your website because people can smell BS quickly and the entire effort could backfire.
You can earn free traffic from Reddit as well, but you'll need to first set up your profile with a positive karma score and participate in discussions.
Simply go to Reddit Ads and log in (if you already have an account) or register (if you don't) to begin promoting.
As you can see from the image below, the pricing of your advertisements is determined by the country and subreddit to which you choose to advertise.
I'd only have to pay between $0.5 and $1 CPM to promote a mxblog24 article on some internet marketing-related subreddits in the United States (cost per 1000 impressions).
After that, you must submit your campaign, which must first be reviewed and authorized, so you may have to wait up to 24 hours for it to go live.
Reddit is a fantastic way to generate high-quality, low-cost website traffic, but you must be careful what you promote because, once again, Reddit people can smell through the BS, and if they suspect what you're publishing is shady or appears to be a scam, they will inform you and other redditors.
Extra Information on Reddit Ads:
Minimum Deposit: $5 (last time I checked…)
Minimum CPM: $0.50
5. PopAds
If you want to run a pop-under or pop-up ad on PopAds, you'll need to create an account and pay on a CPM basis. You'll have to conduct full tracking again, but the traffic is so inexpensive that it might be worth it.
Some people have a conversion rate of 4-5 percent (we'll call them unicorns because they're so rare that no one knows if they exist).
You can start creating a campaign once your account is fully set up and funded.
Because there are so many features to play with, I'll have to create a more in-depth guide on Popads in the future, but for now, here's what you need to know: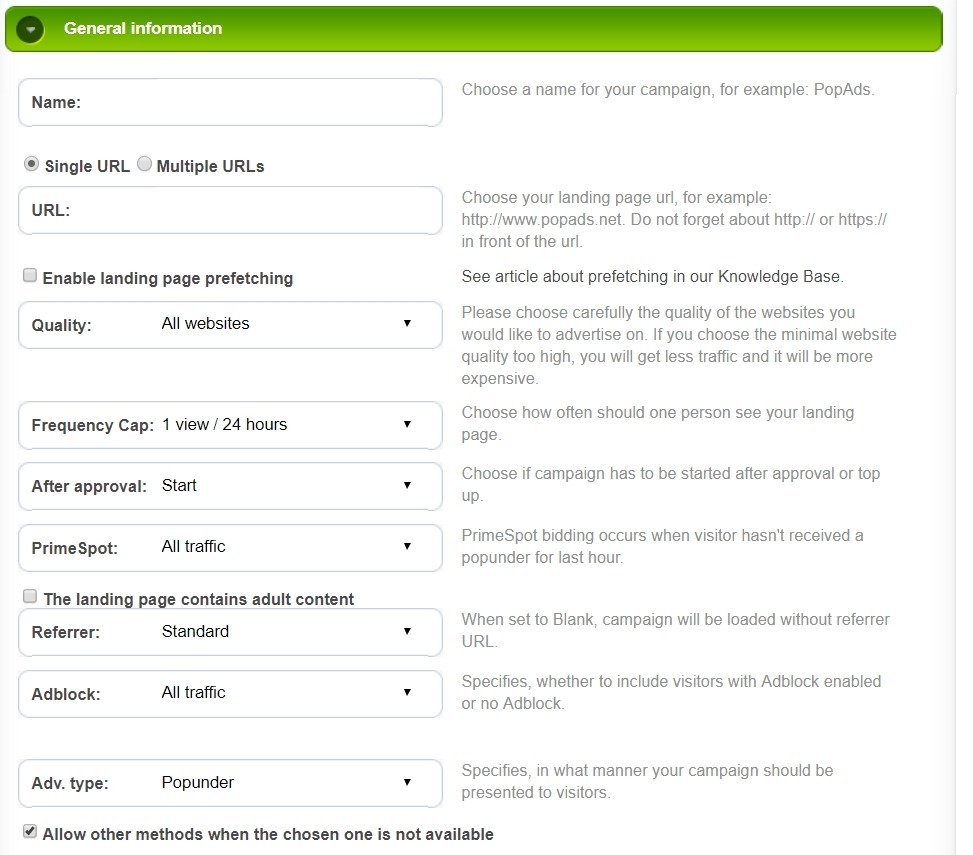 Create a nice-looking pop-up landing page, using either a basic image or a well-designed LP, then paste the URL above.
You should leave it on "All websites" for quality. You will receive more website visitors and will be able to optimize the campaign more quickly.
Plus, most of the time, paying extra for the top 10% of websites isn't really worth it.
Max Bid: Use the "Smart Bid" option to input the highest bid you're willing to pay for a view; for example, if you enter $0.005 here, you'll be charged $5 per 1000 impressions.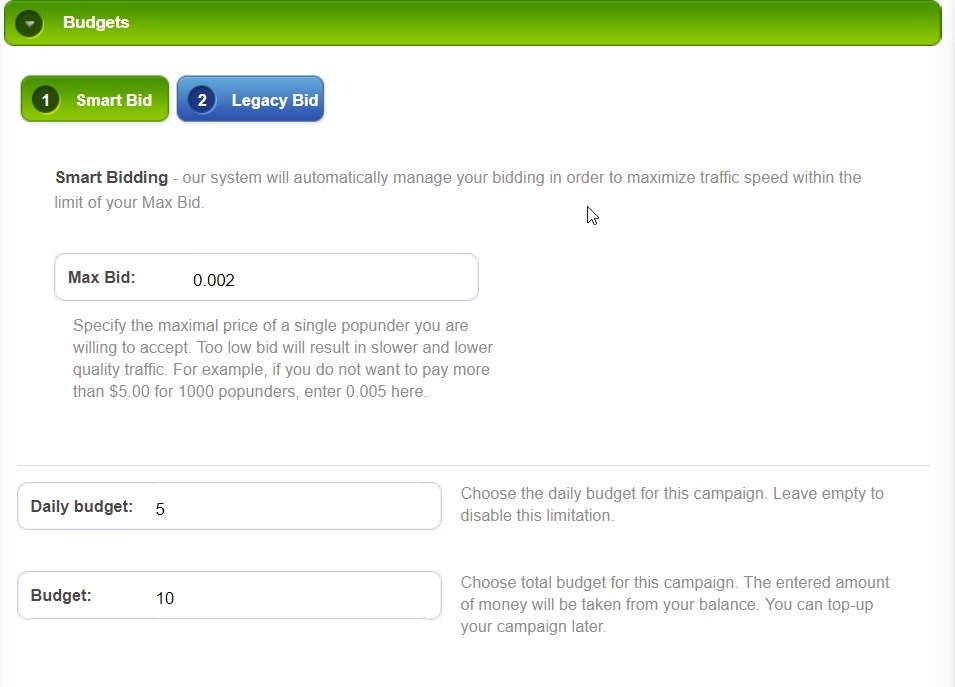 Bidding example for Popads: $2 CPM ($2 per 1000 impressions) is the result of a $0.002 cost per view. Quite good…
Disabled throttling
Choose Adult just if you're promoting an adult offer; otherwise, General will suffice.
Disabled website targeting (for now)
If you're using a tracking program like RedTrack, you'll be able to see the IDs of the websites that are bringing you traffic after your campaign goes live and you get some visitors to your link.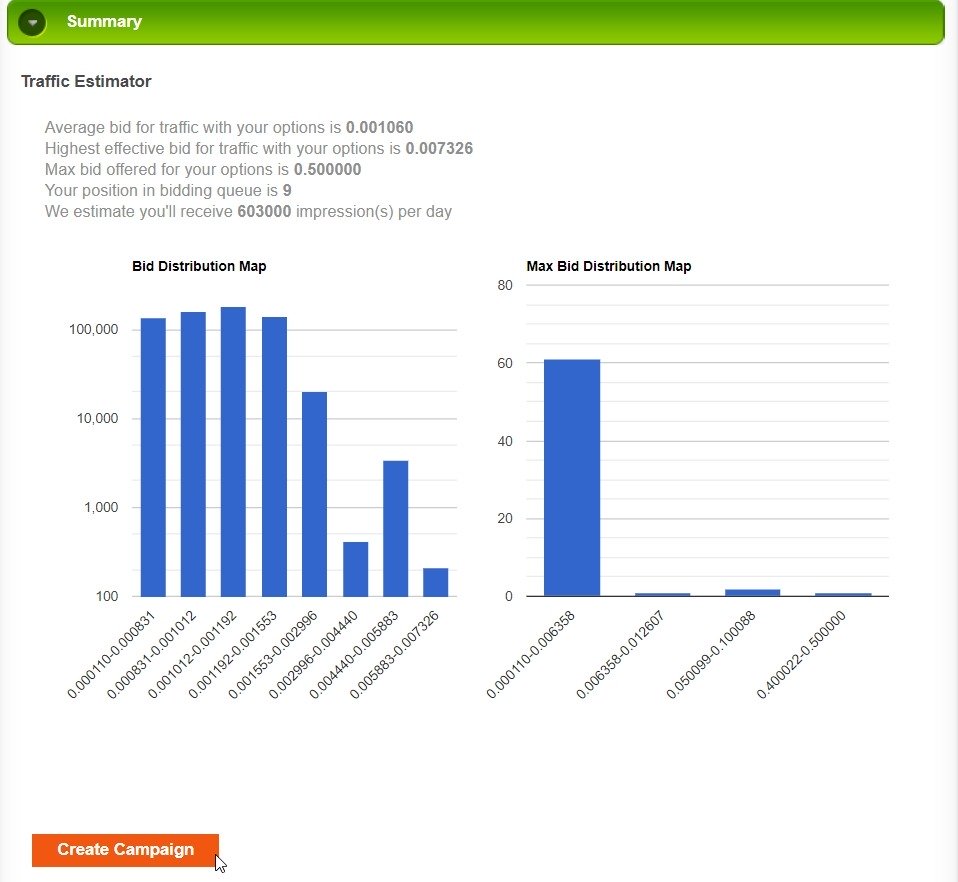 The number of impressions you can obtain every day is determined by the settings and bid you select.
If you want more daily impressions, you'll need to bid a little higher; but, if you're on a tight budget, you can drop your price and obtain less impressions.
After you've received a sufficient number of visitors (at least 5,000), you may begin optimizing your campaign.
If an ID does not convert, go ahead and add the IDs you want to restrict to the "Exclude Websites" option.
As you can see, I was able to get a $0.0014 cost per view in one of my test campaigns on Spain, which was fairly good…for a tier 1 nation.
However, this was after I improved the campaign and deleted the bot traffic, which explains why my impressions count is lower.
Conclusion
My selection of 5 excellent and inexpensive website traffic platforms for promoting your websites, blogs, affiliate offers, and collecting email signups, among other things.
They all differ in terms of traffic quality and pricing, and they all have their own unique features.
Some of them are more difficult to grasp, such as popunder ad networks, and even Facebook advertisements these days can be complex, but they are still worth a shot.
Keep an eye out for bot traffic and invalid clicks from Revcontent and PopAds, and track everything (even on Bing/Facebook advertising, you should track your campaigns and see what keywords convert, etc. – tracking is one of the most important things to do when paying for traffic).
Get some tracking software, such as RedTrack or FunnelFlux (which is a little easier to use), and start creating your campaigns.
I'll try to keep this article up to date when I learn more about any of these changes. The information you see here is subject to change at any time; these networks may raise their charges or require a minimum deposit, or they may begin to run bad traffic or close accounts at any time.
It all comes down to the product or service you're promoting, as well as the country and landing page.
---