Many of us in the digital marketing industry are concerned about domain authority. Well, not me (I'll explain later), but the large majority of others do. The more domain authority you have, the higher your website will rank in the search engines.
That's how it's meant to operate, at least.
If you've never heard of domain authority before, I'll explain what it is, why it's important, and how to create domain authority quickly in this article. At the very least, as quickly as feasible.
Let's get started by learning the following:
What is Domain Authority?
Domain authority, or DA, is a statistic that is assigned to a domain name (website address) based on the amount and quality of backlinks (links from other websites) pointing to it.
Moz was the first to develop domain authority, but now many SEO tools use the same terminology and concept, and it has unofficially replaced the now-defunct Google Page rank.
Although domain authority is not a factor in Google's ranking algorithm, it may be utilized by webmasters, bloggers, digital marketers, SEOs, agencies, squirrels, and pretty much anybody else to determine how well their website or client's site is performing in terms of Google rankings.
Domain Authority: Does it Matter?
Let's imagine you want to launch a site. When your blog goes live, chances are it will have a low domain authority, which is normally 0.
Why?
Because it's a new website, the domain name doesn't have any relevant backlinks, and no one has heard of your blog.
The more people and other websites talk about and link to your new website or blog, the better your domain authority will be.
Consider the following example:
You're so good at saving money and managing your personal finances that you decide to start a blog on… "personal finance."
You begin writing blog entries at the speed of light, expecting them to rank number one in the SERP (search engine result pages), but that day never comes.
Is that even possible? You've followed all of the rules… What the hell is going on?
Turns out, there are enormous websites in the same niche as yours that have been there for 20+ years, with ridiculously high domain authority 70-90+, and everything they publish appears on the first page, while yours with its meager 1 DA is nowhere to be seen.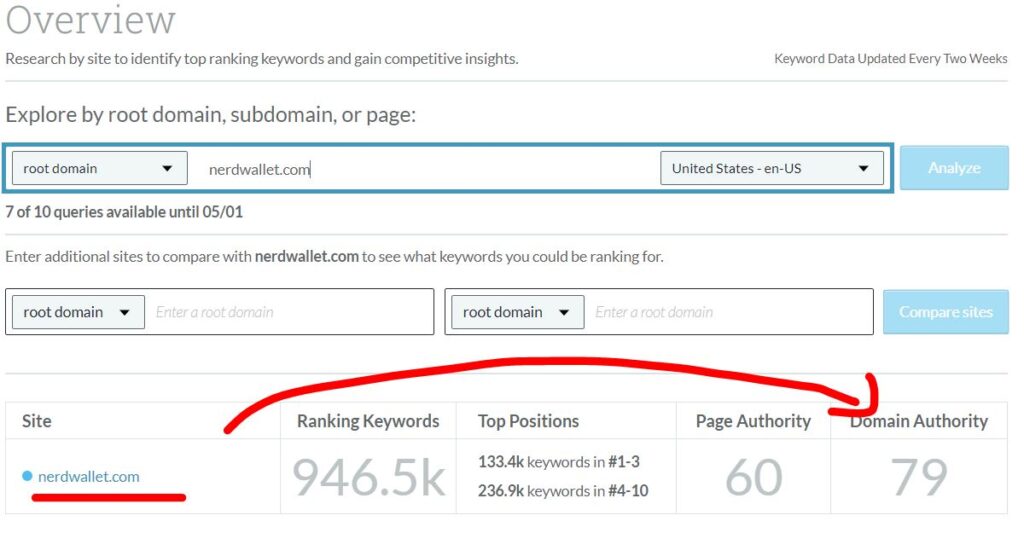 That's because Google favors domains that have… industry authority, are trustworthy, and have a track record of producing high-quality content for longer than you've been alive (probably).
So they do so by looking at a few things, one of which is the importance of quality backlinks.
If your site has none or only a few, Google will naturally prefer a site with many more backlinks and relevant content than yours.
The higher the domain authority, the more backlinks and high-quality content a website has.
Page Authority vs. Domain Authority
Page authority [PA] is used to measure the strength and ranking power of individual pages on your site, whereas domain authority [DA] is used to measure the overall performance and strength of your website.
The same factors that determine the domain authority score or rating apply to the page authority score or rating: backlinks and content.
So, if you've produced an article about "100 best doughnut recipes" (are there even 100 donut recipes?, maybe), and it hasn't yet ranked, look at the competition and examine their page authority of that specific blog post, as well as what they're writing and where their backlinks are coming from.
Semrush (affiliate) is a wonderful tool for this because it allows you to effortlessly spy on the competitors and examine their top sites and backlinks.
This is significant because you can then go after the websites that are linking to your competitors and urge them to do the same for you (if you have great content).
What factors go into calculating domain authority?
Every SEO tool, such as Moz or Semrush, has its own algorithm for calculating domain authority, but they all rely on two factors: relevant content and high-quality backlinks.
The domain authority score, which runs from 1 to 100, is subsequently assigned to the website.
The greater the score, the more authoritative the domain, with 100 being the highest and 0 or 1 being the lowest.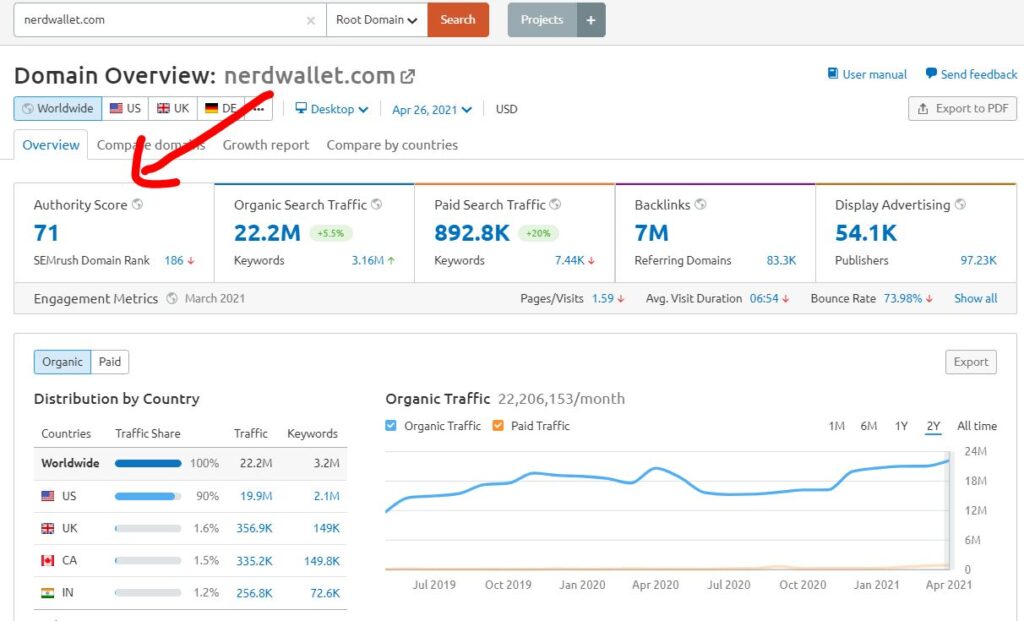 If you want to rank for competitive keywords in Google, Bing, and other search engines and enjoy that sweet flow of free organic traffic, you should endeavor to acquire a DA as high as possible.
Why do I constantly using the term "quality" in my sentences? Just so you know, I'm not going nuts, or at least I don't think I'm going insane.
The reason I place such a high value on quality is that you don't want sucky backlinks, which include spam, PBN (private blog network), and low-quality websites in general (adult ones, spammy ones, hacked, etc).
Getting 1,000 backlinks from low-quality sources or spam will not increase your domain authority; in fact, it may lower it even further.
How do you find out what your current domain authority is?
You can check your domain authority by visiting Moz Keyword Explorer or by downloading and installing their MozBar Chrome Extension.
However, with Moz, you only get 10 free trials every month.
Your DA can also be seen in any other SEO tool you're using, such as:
Remember to examine not only the domain authority of your website, but also the individual page authority of the most important URLs (pages) on your site.
Especially if you've generated some fantastic pillar content for a competitive niche and want to get a leg up on the competition.
If your website is brand new, don't expect a high domain authority; instead, expect a low value of around 30.
But don't become disheartened; keep working and writing high-quality blog entries while also collecting backlinks, and your domain authority will slowly but steadily rise.
Also, keep in mind that it's easy to move from a DA score of 10 to 30, but it gets tougher as the score rises, so moving from 60 to 70 or 70 to 80 will take years of hard effort and, once again, quality backlinks from exceptional content and outreach.
---
How to Increase Your Domain Authority in 7 Easy Steps
---
Now that we've covered some of the fundamentals of domain authority, let's look at some extra super ninja hidden ways to boost it.
1. Create EPIC Content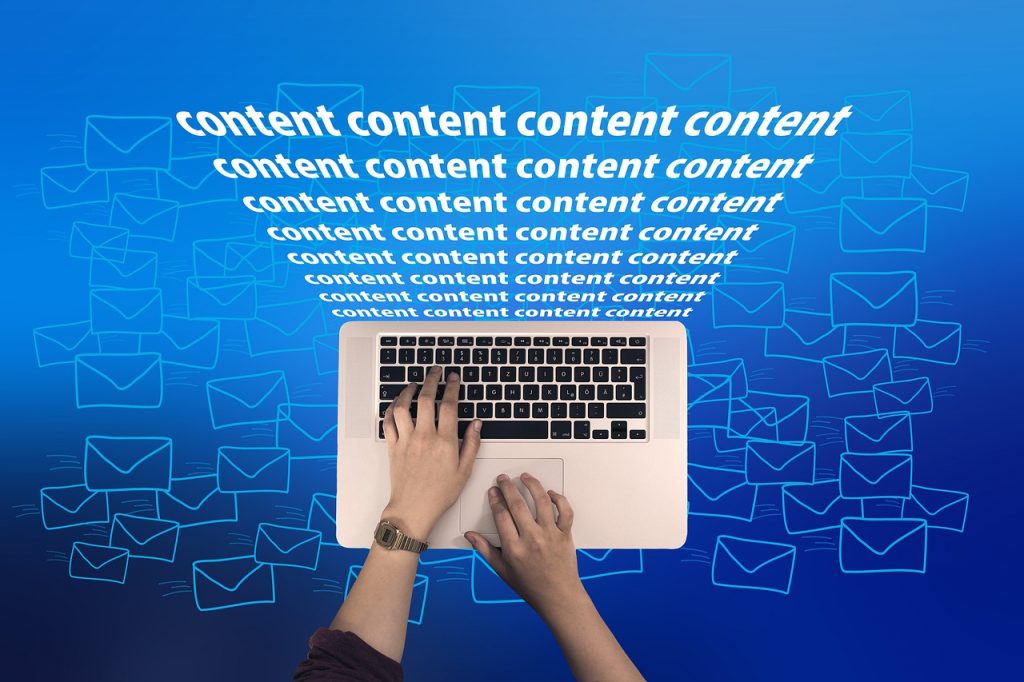 If you want to increase your domain authority, the first step is to create EPIC content.
You want to publish fantastic, informative articles for consumers, but EPIC means the content has to be so good that Google and other search engines can't ignore it.
This strategy is also referred to as the skyscraper technique, pillar content, or cornerstone content, depending on who you ask.
However, the primary idea remains: you must write amazing content. Not only that, but if you have the ability, make movies, build infographics, add facts, conduct data study, and so on.
Do you have no idea how to make any of them? Check out Best Fiverr Gigs to outsource all of your tasks for under $5.
But where do you obtain outstanding content ideas?
Well, you may utilize a couple of digital marketing tools. First, assuming you've already chosen a niche, you should begin by doing keyword research, and then look at what your competitors are doing and writing.
One way to do this is to go to Semrush (7-day free trial using my affiliate link) and type in your competitors' domain name (the ones that are ranking high in Google for your topic terms).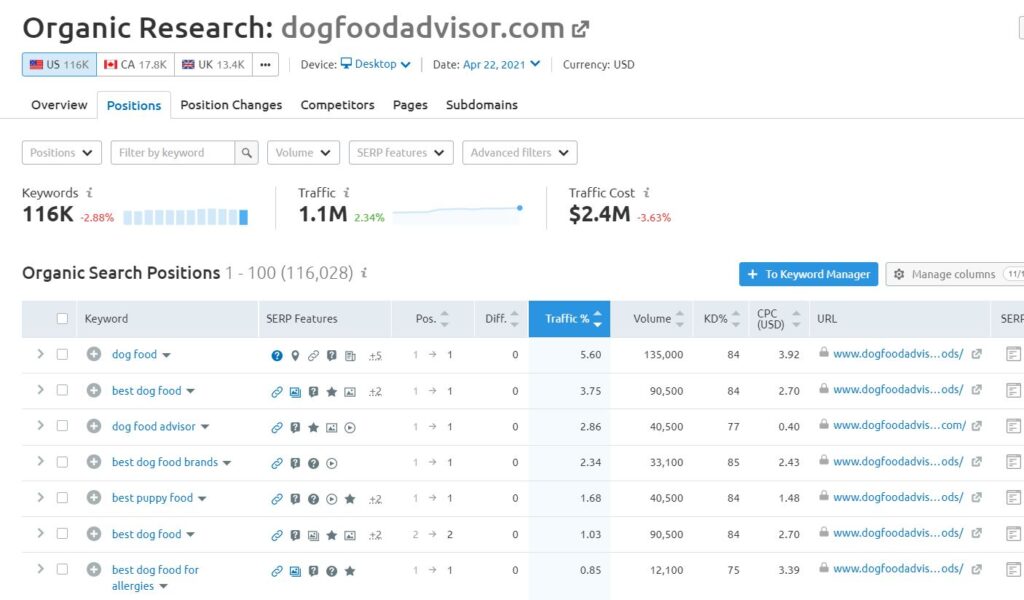 As you can see, if our rival is "DogFoodAdvisor.com," we can quickly determine what their greatest content is, as well as where and for what keywords they are ranking using Semrush.
If you want to go after certain websites and try to outdo them with superior material, this is critical. You won't have to waste time brainstorming topic ideas or deciding which articles to publish because you already have a list of winning ideas that have worked for others.
Answer the Public can also help you come up with additional in-depth content ideas based on terms from your themes.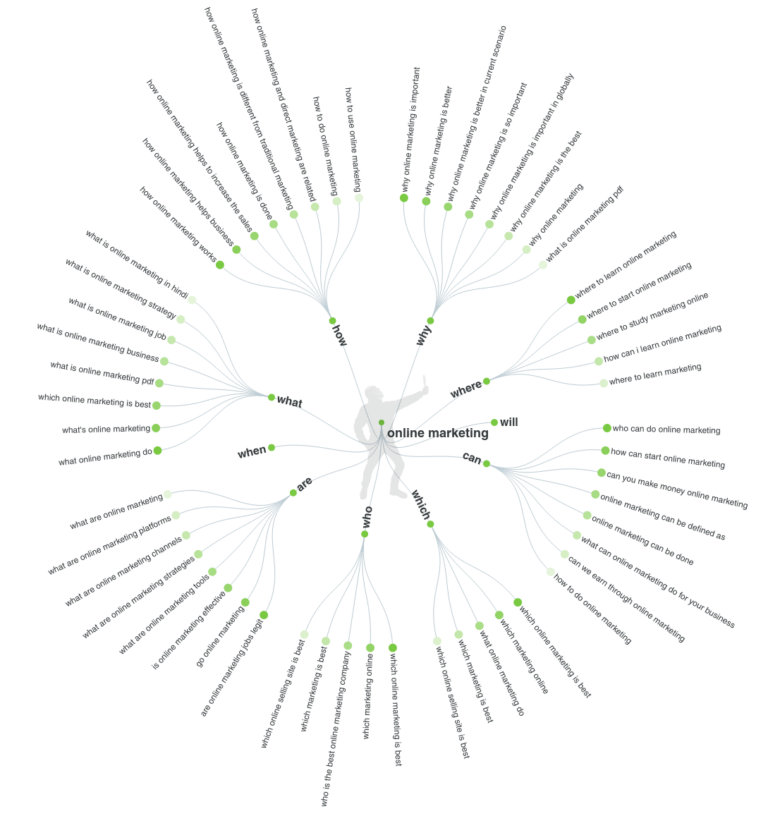 Answer the Public is a relatively unknown tool among marketers, which is beneficial for me and you (less competition) because we can use it to figure out exactly what people are looking for and searching for, as well as what type of content to create.
2. Create high-quality backlinks
Here we go with the quality backlinks spiel once more.
Listen, I'm not here to persuade you how to create backlinks; you're free to do whatever you want, even spamming as many forums and blogs as you like.
However, if you want to increase domain authority without getting slapped in the face by Google, you should aim to just attract high-quality links to your site.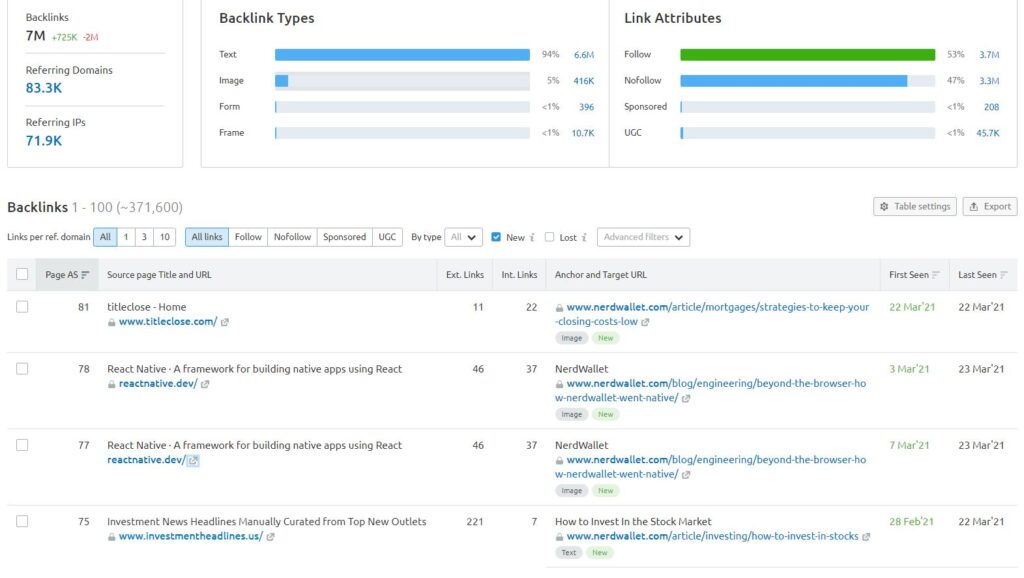 This is how you do it:
💡 Semrush can help you find out where your competitors' backlinks are coming from. Through my affiliate link, you may get a 7-day free trial.
3. Optimize your page for search engines
On-page SEO is easier to execute and manage than establishing backlinks, which is a time-consuming and continuing operation.
Google has often stated that high-quality and valuable website content is valued by them, perhaps even more so than backlinks, so make sure your website and content are optimized.
Before you push publish on a new post, there are a few things you should do:
4. Boost Your Page's Speed
In the words of Jeremy Clarkson: SPEEEEEEEEEEEEEEEEEEEED.
No, but honestly, you want to make sure that the page speed of your website and individual articles is in the green zone.
A quick website loading time is not only vital for users (many would abandon your site if it takes more than 3 seconds to open), but it is also an official Google ranking algorithm.
And, with Google's impending core change, page speed is more critical than ever.
How can you make your website load faster? There are a few tricks, though:
5. Use social media to boost your visibility
Google, Bing, and pretty much all other search engines are known to check to see if your website receives any social mentioning or social signals.
The more people share your material, the higher you'll rank in Google's views.
That's all there is to it.
So, how do you go about doing that? Return to step 1 and review it (create epic content).
You could also take a shortcut by using tools like Buzzsumo or, you guessed it, Semrush to look at what material is shared a lot in your niche.
That way, you'll know exactly what to write and how to write it to get the most shares.
There's more to social media than Facebook, Instagram, Twitter, and Pinterest. Check out Reddit and other social media sites (learn how to do marketing on Reddit)
6. Get rid of any bad backlinks
If you've made the mistake of spamming websites and blogs in the hopes of increasing domain authority, you may use a disavow file to inform Google that you've been a bad boy or girl and are now on the right track.
If you find some fishy or spammy links in your Google Search Console or your favorite backlink checker, you may "tell" Google to disregard them by uploading a disavow file.
Again, double-check that you have the correct poor links; otherwise, your rankings and domain authority will suffer.
When webmasters are anxious for domain authority, they may resort to unethical tactics such as employing PBNs (private blog networks), backlink spamming on blogs and forums, as well as.edu,.gov, and Wikipedia sites, among other things.
It's possible that your website may be targeted by competitors who are out to defeat you and will use blackhat backlinking strategies like the ones I've described above to get your site punished.
Yes, that does happen from time to time; it's inconvenient, but such is life.
7. Look for Crawlability Problems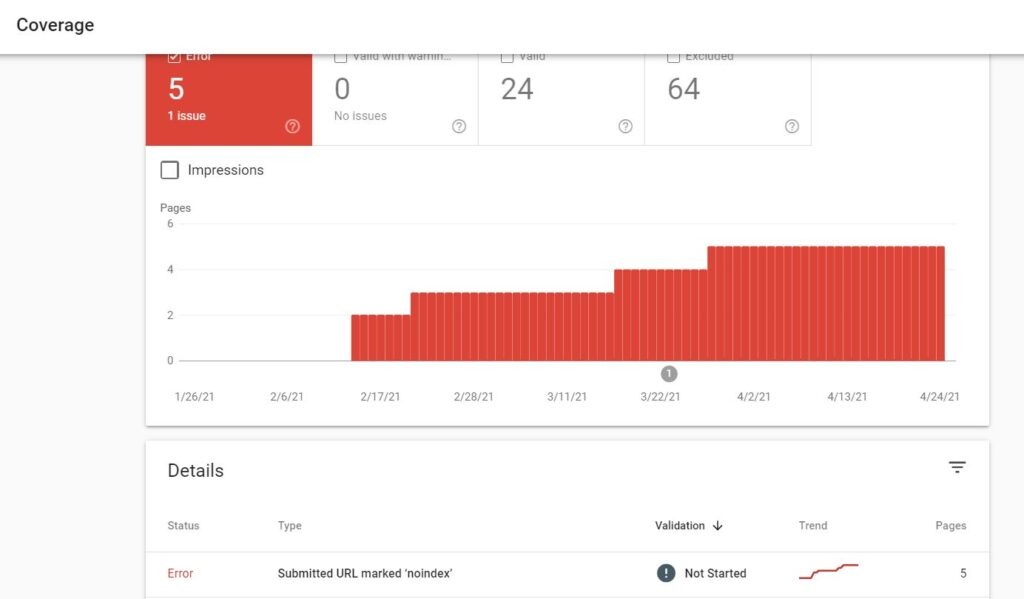 It's probable that not all of your pages will get crawled and indexed by Google.
This could be due to a variety of reasons, including technological difficulties (server problems, bad SEO practices, or using an SEO plugin the wrong way).
Other times, it's just because you've published too much stuff, and Google needs to relax for a while before crawling and indexing it. If nothing stops them, they'll finally get to crawling and indexing your content.
Make sure you don't stop Google's bot crawlers if you have a robots.txt file. Also, don't use the "no-index" tag on pages you want to rank for; only use it on pages you want to hide from the SERP (like thank you pages, etc).
Can a Website Rank Without High Domain Authority?
The truth is that you can rank on Google's first page even if your domain authority is low.
But…
It won't be going for highly competitive terms like "best credit cards."
You'll have to go on the lookout for themes, concepts, and long-tail keywords with little or no competition, and then generate content for them.
That's why I never gave a damn about domain authority, because on all of my niche sites (at least at first), I went for low-competition keywords to get some traffic going while I built up my authority.
And if you know me, you know I despise backlink building and even SEO, preferring instead to rely on low-cost website traffic, but that doesn't mean I don't care about SEO and don't optimize my sites and articles for it.
So, at first, concentrate on creating great things, focusing on low-competition keywords relating to your topic or niche, and over time, as more and more of your articles get ranked on the first page, you can relax. Backlinks will begin to flow in automatically.
Oh, and structure your content in such a way that featured snippets are more likely to appear. This can result in a significant increase in visitors, especially for new websites.
How to increase domain authority: Conclusion
Most webmasters and marketers should seek to improve their domain authority, especially in the beginning when their site is new.
Although DA isn't the most precise statistic available, it is usually accepted that a high domain rating equates to higher rankings.
If you want to rank for extremely competitive keywords, you'll need a DA that's comparable to your competitors.
Share this post with your friends, feline, and human pals. Remember what I said about social signals earlier? This is important.
---